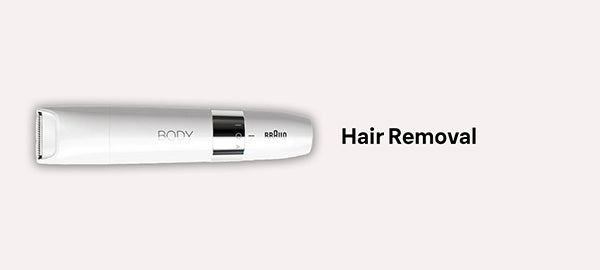 Body and Face Hair Removal for Women
7 results
Here at Braun, we produce a wide selection of products designed for exceptional facial hair removal for women. Both body and facial hair removal products are included within the range so Braun has you covered no matter which part of your body you'd like to remove unwanted hair. For long-lasting results with hair removal for women, we'd recommend taking a closer look at our technologically advanced IPL range which uses intense light pulses to delay the production of new hair and can even help to prevent new growth over time.
There again, you might also want to consider the considerable merits of our range of epilators, designed for hair removal that will give your skin a salon-like smoothness that can last for up to four weeks. These are ideal for bikini lines, legs, armpits and other areas of the body, too. Among our product ranges, you will also find women's trimmers, electric shavers for women and mini hair removal products for women. Our women's shaver products are specifically designed for females, some of which come with OptiTrim attachments, for example, designed to make intimate grooming easier. There again, our facial epilators afford exceptional skin care results. Designed to keep eyebrows and chin hair under control, for example, they are small, easy to handle and can remove facial hair that's up to four times shorter than would be needed when waxing.
Relevance

Popularity

Price: Low to high

Price: High to low

A - Z

Percentage Discount
Lady Shaver

(3)

Mini Trimmer

(3)

Surface HR

(6)
Lady Shaver

(1)

Mini Body

(2)

Mini Face

(2)
Price Range Selected
£15 - £55
No products were found within specified range
FAQs
Our women's trimmer products are good for reducing the length of your hair but for close shaves, you really need to use a shaver. The Braun LS5100 Lady Shaver Legs and Body is a good example, producing exceptionally close shaves with a foil design and a round head for added comfort. Meanwhile, our Silk-épil Wet & Dry Electric Lady Shaver 3-in-1 offers a handy floating foil for a close shave on legs, underarms or pubic hair with a useful exfoliating attachment.
Yes, all of the Braun electric shaver for women products we produce are safe to use on all types of skin. Further information on using our hair removal products safely can be found in our handy guide on this particular topic. Note that this guidance applies whichever type of skin you happen to have.
To begin with, you need to consider where on your body you want to remove hair. Although some of our body epilators, for example, will work perfectly well on eyebrows, when it comes to face hair removal, you could benefit more from a specific Braun product that is designed for facial hair removal for women, such as our Face FS1000 Mini Hair Remover with Smartlight. This will offer exceptional results and can isolate hairs on your upper lip, chin or cheek for a tremendous degree of accuracy. If you want long-lasting results than an electric shaver for women would offer, then why not consider an epilator or one of the advanced products from our IPL collection instead?
A trimmer for women will trim hair while only an epilator will epilate hair. Therefore, only a razor or an electric shaver for women will actually shave hair. Trimmers don't remove hair as low as when it comes to women's shavers while epilators remove hairs from their follicles for even long-lasting results.
Braun Mini Precision Trimmer FG1106 Eyebrow Trimmer is primarily designed for contouring eyebrow hair but it can also be used to get rid of unwanted facial hair anywhere else on the face, too. Likewise, the Braun Face Mini Hair Remover with Smartlight is for facial hair removal only.
Added to your basket
Sorry, there seems to have been an error. Please try again.
Subtotal: ( items in your basket)