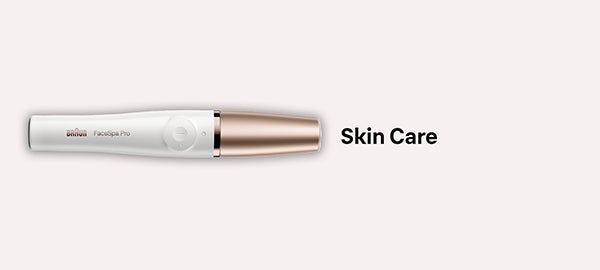 Braun Facial Epilator Products for Women
12 results
With skin care products like facial epilators, lady shavers and a host of accessories, Braun is the ideal place to turn to when looking for hair removal products for the face. Along with our exceptional IPL products which allow you to obtain permanent, salon-like visible hair removal results from the comfort of your own home, we produce some great epilators for the body. That said, our face epilators offer a more specialist approach to modern hair removal. These facial hair epilators will work on eyebrow hair, unwanted upper lip hair and can neatly remove unsightly hairs from your chin and cheeks, too.
Like our lady razor and lady shaver electric products, our epilators for the face remove hair discreetly. Use the Braun Body Mini Trimmer with Trimming Comb to remove any particularly thick or long areas of facial hair, if needed, and then turn to a facial epilator to complete the job. Products like the Braun FaceSpa Pro Facial Epilator with 4 Extras and Beauty Storage Case, for example, can help you to get radiant and glowing skin thanks to the combination of the different attachments included. Such facial hair epilators even stimulate the skin to enhance blood circulation while epilating, leaving skin feeling smooth and toned for an enhanced complexion.
Relevance

Popularity

Price: Low to high

Price: High to low

A - Z

Percentage Discount
Face

(6)

Facial Epilator

(8)

Facial Epilator Accessories

(1)

Lady Shaver

(2)

Mini Trimmer

(2)

Surface HR

(4)
FaceSpa

(3)

FaceSpa Pro

(4)

FaceSpa Refill

(1)

Lady Shaver

(1)

Mini Body

(1)

Mini Face

(1)
Price Range Selected
£15 - £150
No products were found within specified range
Up to 25%

(2)

25% - 50%

(5)
FAQs
Prepare your skin for your face epilator by exfoliating before you use the device. Wash your face to hydrate it and apply an exfoliating scrub or use a mitt. Rub your face down afterwards with a dry towel. Next, epilate the part of your skin you want to remove hairs from by holding your epilator to face you at a right angle. Don't rush or push hard and try to relax. Allow your facial hair epilator to glide over the area concerned. After epilating, it is a good idea to apply a moisturiser but remember that it is best to not do this beforehand.
Yes, all of the facial epilator products within the Braun range are suited to use by women with all skin types. The FaceSpa Pro Facial Epilator with 4 Extras is a good example because it will suit women with all sorts of facial skin variations. In fact, the only place you shouldn't use a face epilator is on broken skin.
No, the facial epilators UK consumers can purchase from Braun have been designed to lessen the physical sensation you will often notice when using them. However, that is not to say that our facial hair epilator range won't cause some level of discomfort when in use. This will vary from individual to individual. Some women find that they are not much different to using a ladies' battery shaver while others feel the tweezers that epilators use to offer a stronger sensation but one that falls far short of the pain that might be experienced when waxing, for example.
Braun epilators for the face are not suited to hair removal on other parts of the body. In order to remove hair from your bikini line, armpits or legs, for instance, you should either use a ladies' trimmer, a lady shaver or an IPL device. Alternatively, you could opt for another epilator, one that has been designed for body hair removal, to complement your Braun facial epilator.
Epilation will last up to four weeks, offering salon-like, smooth skin for a longer period than either lady razors or shavers. As soon as your facial hair has grown back to a barely noticeable 0.5mm, you can use the epilator on your face again.
Added to your basket
Sorry, there seems to have been an error. Please try again.
Subtotal: ( items in your basket)