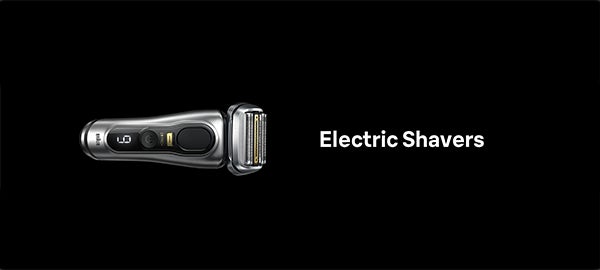 Men's Electric Foil Shavers
53 results
Electric shavers for men provide accuracy and often speedier shaves compared to wet shaving. If you are looking for a high-quality foil shaver for yourself or the man in your life, then there are some excellent products available from within the Braun range, including our Series 9 Pro, a waterproof and extremely efficient wet and dry electric shaver. You can shave, trim and edge with ease with our foil electric shaver products, too, such as the Series 3 which comes with a 3-flex head for working around the contours of your face.
Overall, electric shavers offer a very different shaving experience for men, especially if they've only been used to wet shaves with a razor blade. For one thing, you don't have to push as hard with a foil shaver as you would when shaving manually. Our close electric shavers allow for a smooth finish with superb results. Just trim your beard with one of our great beard trimmers before shaving to help remove the excess facial hair from your face unless you have already shaved in the last few days.
Mini Buying Guide
If you are thinking about which of our electric shavers for men will suit you the best, then consider what it is you most want to achieve. Some men like the flexible heads that some of our shavers come with while others will favour our lubrication systems that adapt to the changing conditions they face when in use. For example, you can check out our Series 8 shavers which come with an intelligent series of cleaning programs. In short, this foil shaver will automatically charge, clean and lubricate your razor so that each time you pick up your shaver it will feel like new – all this at the touch of a button.
There again, buyers should also consider the number of vibrations an electric shaver has since it is these back-and-forth movements that happen many times a second that make the shaver work by removing facial hair. The Series 8 has unique Sonic Technology with 10,000 micro-vibrations, for example. There again, our Series 9 Pro Shaver offers the use of our unique ProLift trimmer, too. This means that it is an electric razor that will lift and cut tricky hair for superb results. Alternatively, you should check out our range of hybrid trimmers. These are great for manscaping and male grooming offering protection while also trimming body hair very closely.
Of course, a wet and dry electric shaver should mean being able to avoid unwanted nicks and cuts, something that some men who only wet shave will suffer from. To get a close shave using an electric shaver, hold the product at a right angle or as close to one as you can manage. After you have shaved, make sure that the combs and shaver head can be cleaned easily. Products like our Series 6 Shaver allow for this. Its head and combs are fully washable – just hold them under running water and allow them to dry. Easy maintenance, like this, isn't just good for maintaining your foil shaver but for ensuring your next shave feels good, too.
If you like wet shaving with a foil razor, then many of our products can be used this way. Look for waterproof options. For added convenience, many of our wet and dry electric shavers are cordless and will recharge from a supplied base unit or power cable. For example, our Series 5 and 6 shavers come with batteries that will offer up to three weeks of shaving, or a total of 50 minutes. What's more, it only takes five minutes for a quick charge to be able to conduct a full face shave, regardless of your skin type, with either of these products.
Relevance

Popularity

Price: Low to high

Price: High to low

A - Z

Percentage Discount
Beard Trimmer

(12)

Body Groomer

(4)

Electrical Shaver

(6)

Electric Shaver

(47)

Mother's Day

(1)

Shaving

(40)
300s

(1)

50-M1000s

(1)

50-W4200cs

(1)

60-B4500cs

(1)

60-B7000cc

(1)

70-S4200cs

(1)

Series 3

(5)

Series 3 ProSkin

(3)

Series 5

(8)

Series 6

(9)

Series 7

(6)

Series 8

(7)

Series 9

(4)

Series 9 Pro

(5)
Price Range Selected
£35 - £525
No products were found within specified range
Up to 25%

(1)

25% - 50%

(14)

50% - 75%

(16)
Products
Braun Series 9 Pro Shaver with Cleaning Center and Power Case

Gillette Skin Ultra Sens Moist

Worth £7.00

SAVE 54% & Get a Free Gillette Skin Gift

For a limited time only, get a complimentary Gillette Skin Ultra Sens Moisturiser with your Braun Shaver. *Selected products only

Shop Now

Braun Series 9 PRO+ Electric Shaver 9527s

Gillette Skin Ultra Sens Moist

Worth £7.00

SAVE 40% & Get a Free Gillette Skin Gift

For a limited time only, get a complimentary Gillette Skin Ultra Sens Moisturiser with your Braun Shaver. *Selected products only

Shop Now

Braun Electric Shaver Series 9 Pro 9467cc

Gillette Skin Ultra Sens Moist

Worth £7.00

SAVE 55% & Get a Free Gillette Skin Gift

For a limited time only, get a complimentary Gillette Skin Ultra Sens Moisturiser with your Braun Shaver. *Selected products only

Shop Now

Braun Series 9 Pro 9465cc Electric Shaver

Gillette Skin Ultra Sens Moist

Worth £7.00

SAVE 40% & Get a Free Gillette Skin Gift

For a limited time only, get a complimentary Gillette Skin Ultra Sens Moisturiser with your Braun Shaver. *Selected products only

Shop Now

Braun Electric Shaver Series 9 Pro 9419s, Gold

Gillette Skin Ultra Sens Moist

Worth £7.00

SAVE 54% & Get a Free Gillette Skin Gift

For a limited time only, get a complimentary Gillette Skin Ultra Sens Moisturiser with your Braun Shaver. *Selected products only

Shop Now

Braun Electric Shaver Series 9 9417s

Gillette Skin Ultra Sens Moist

Worth £7.00

SAVE 54% & Get a Free Gillette Skin Gift

For a limited time only, get a complimentary Gillette Skin Ultra Sens Moisturiser with your Braun Shaver. *Selected products only

Shop Now

Braun Series 8 Electric Shaver 8567cc

Gillette Skin Ultra Sens Moist

Worth £7.00

SAVE 51% & Get a Free Gillette Skin Gift

For a limited time only, get a complimentary Gillette Skin Ultra Sens Moisturiser with your Braun Shaver. *Selected products only

Shop Now

Braun Series 8 Shaver with Cleaning Center

Gillette Skin Ultra Sens Moist

Worth £7.00

SAVE 55% & Get a Free Gillette Skin Gift

For a limited time only, get a complimentary Gillette Skin Ultra Sens Moisturiser with your Braun Shaver. *Selected products only

Shop Now

Braun Series 8 Shaver with SmartCare Center

Gillette Skin Ultra Sens Moist

Worth £7.00

SAVE 55% & Get a Free Gillette Skin Gift

For a limited time only, get a complimentary Gillette Skin Ultra Sens Moisturiser with your Braun Shaver. *Selected products only

Shop Now

Braun Series 8 Shaver with Charging Stand

Gillette Skin Ultra Sens Moist

Worth £7.00

SAVE 55% & Get a Free Gillette Skin Gift

For a limited time only, get a complimentary Gillette Skin Ultra Sens Moisturiser with your Braun Shaver. *Selected products only

Shop Now

Braun Series 7 Shaver with SmartCare Center and EasyClick Attachments

Gillette Skin Ultra Sens Moist

Worth £7.00

SAVE 40% & Get a Free Gillette Skin Gift

For a limited time only, get a complimentary Gillette Skin Ultra Sens Moisturiser with your Braun Shaver. *Selected products only

Shop Now

Braun Series 7 70-S4200cs Electric Shaver with Charging Stand, Precision Trimmer, Silver

Gillette Skin Ultra Sens Moist

Worth £7.00

SAVE 55% & Get a Free Gillette Skin Gift

For a limited time only, get a complimentary Gillette Skin Ultra Sens Moisturiser with your Braun Shaver. *Selected products only

Shop Now

Braun Series 7 Shaver with SmartCare Center and Precision Trimmer

Gillette Skin Ultra Sens Moist

Worth £7.00

SAVE 53% & Get a Free Gillette Skin Gift

For a limited time only, get a complimentary Gillette Skin Ultra Sens Moisturiser with your Braun Shaver. *Selected products only

Shop Now