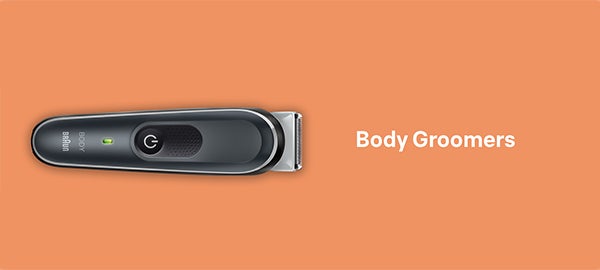 Men's Body Hair Trimmers & Groomers
2 results
The Braun body hair trimmer and body groomers range has everything a man could want to manage their body hair and keep themselves well-groomed. Like our hybrid trimmers and some of our superbly versatile all-in-one trimmers, our body trimmer range is designed to help men keep themselves looking and feeling good. If you're looking for a men's body shaver that can be used in sensitive locations, such as the armpits or the groin, as well as other parts of the body, like the chest and back, you're bound to find something to suit you.
Please note that our men's body groomers come with some very modern touches, such as our SkinShield technology, for instance, that makes for a gentle and accurate trim every time. There again, our male body grooming products also offer great waterproof properties and superb run times thanks to the inclusion of high-quality rechargeable batteries. If you are after a cordless body hair trimmer that will take your male body grooming regime to the next level, then you should certainly check out our body trimmer range in greater detail.
Relevance

Popularity

Price: Low to high

Price: High to low

A - Z

Percentage Discount
Price Range Selected
£35 - £45
No products were found within specified range
Products
Braun Body Groomer Series 5 BG5350

King C. Gillette Beard and Face Wash 350ml

Worth £10.00

SAVE 37% & Get a Free KCG Gift

For a limited time only, get a complimentary King C. Gillette Beard and Face wash your Braun trimmer. *Selected products only

Shop Now
FAQs
Think about what it is you most want from your body groomer. Some people will want to be able to use hair clippers that can also double up as beard trimmers. Note that, some beard trimmers will have attachments that mean they can be used in this way. That said, not all trimmers are suited to male body grooming. Some might be okay for chest hair trimming, for instance, but you won't want to use them in more sensitive areas. Helpfully, the Braun range of body groomer products has been put together for all purposes. The Braun Body Groomer 3 for men is a good case in point because protects skin even in the most sensitive areas, affording superb manscaping control with simple-to-use click-on combs. Meanwhile, our more advanced Braun Body Groomer 5 offers sharper, faster and more efficient trimming versus previous versions of Braun trimmers. Designed for unparalleled comfort, it comes with an attachable Sensitive Comb.
The entire Braun body shaver and trimmer range is designed for body hair which often presents different challenges compared to head and facial hair. Suffice it to say that Braun makes reliable products for male body grooming so you cannot really go wrong with any that you happen to choose. Note that the Braun Body Groomer 5 has a slightly longer, 100-minute, run time than the Braun Body Groomer 5 which comes in at 80 minutes on a full charge. Bear in mind, too, that the Body Groomer 5 for men is designed to protect skin even in the most sensitive areas. Manscape and body groom anywhere with a sliding comb attachment, useful for maintaining body hair at your preferred length.
Yes, you can. Not all trimmers are ideal when it comes to operating as a men's body shaver, however. As such, it is best to opt for a body hair trimmer that is part of Braun's selection of male grooming products. Our hybrid trimmers can also be used to trim pubic hair as well as our body trimmers for men.
A body groomer for men works in a similar way to an electric shaver. The major difference is that these body hair trimmer products have been designed to remove body hair as opposed to facial hair. Typically, they have been designed to offer comfort with sensitive combs that can be used on parts of the body which are less used to being shaved, such as chins. Trim in the direction your hair grows in for the best results.
Neither is better as it is a question of personal choice. You may prefer to groom with a body trimmer to manscape and create contours down to a hair length of 0.5mm. However, if you want a smoother finish, then choose one of our body shavers for men instead of using a body groomer.
Added to your basket
Sorry, there seems to have been an error. Please try again.
Subtotal: ( items in your basket)