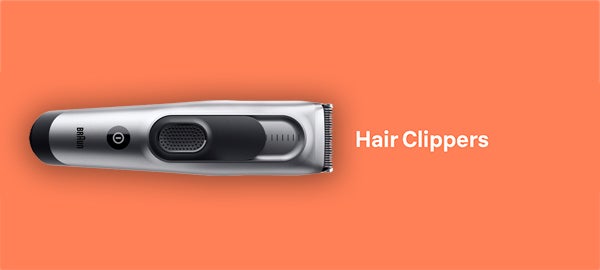 Braun Hair Clippers
3 results
The Braun range of cordless hair clippers offers a great deal of versatility for a range of differing hair styling options. As hair clippers for men and women, you can obtain a range of different accessories with the various models to suit all styles. For example, the 17-setting Braun Hair Clipper Series 7 HC7390 comes with its own charging stand, two combs, a cleaning brush and a pouch while the Braun Hair Clipper HC5010 model has three body attachments, three facial brushes, a facial epilator, a shaver attachment and a trimmer. There again, you might prefer the hair-cutting simplicity offered by the Braun HC5090 which has two combs, appliance oil, a cleaning brush, a pouch and a charging stand. Alternatively, the Braun Hair Clipper Series 5 HC5310 provides nine length settings, a small comb and a cleaning brush.
In short, there is something for everyone within the Braun hair clippers collection. Whether you want to trim your own hair or would like a product that a friend or partner can use to trim your hair to the precise length you want, there will be a suitable product. Bear in mind that as rechargeable hair clippers, all of these models provide cordless functionality which is ideal if you want to have complete freedom of movement with your clippers as you your trim hair. Equally, the design of these hair clippers makes them easy to hold whether you're trimming your own hair or styling someone else's.
Along with Ni-MH batteries and lengthy runtimes, depending on the model, you can expect length settings to be saved thanks to our Memory SafetyLock system. All of the models provide lifetime-lasting sharp blades for perfect haircuts every time you use your Braun hair clippers. Make cutting and styling your hair from home effortless with hair clippers that have ultra-sharp blades no matter the length or thickness of your head hair.
Relevance

Popularity

Price: Low to high

Price: High to low

A - Z

Percentage Discount
Hair Clipper

(3)

Styling

(2)
Hair Clipper

(2)

HC 5

(1)
Price Range Selected
£25 - £70
No products were found within specified range
FAQs
When using your Braun hair clippers to trim your head hair, wash and condition it first. Set the clipper to the desired length and add a comb if you need to maintain a longer setting. With the clippers at the bottom edge of your hair, trim from the underside to the top. Start at the sides and only trim the back of the head after the sides are right. Be sure to tilt the hair clippers at an angle as you work upwards. This will help to create an even fade with the rest of your hair. Please note that our hair clippers for men are not suited to body hair trimming. Take a look at our range of all-in-one trimmers or the precise Braun hybrid trimmers instead. Alternatively, check out our body groomer range or use our product recommender to work out which would suit you best.
All of the Braun hair clippers in this collection come with a cleaning brush. You can use this to remove longer hairs that may have gathered around the blades. Make sure your men's hair clippers are unplugged and switched off before cleaning with water. Like our electric shavers, you should allow your clippers to dry out thoroughly before storing them. Further advice on maintaining hair clippers can be found in our handy step-by-step guide.
Electric hair clippers, especially cordless hair clippers, like those from Braun, are ideal for trimming hair on your own. In common with our range of beard trimmers, you should make sure you have enough room and a mirror you can look into as you trim. Make sure each side of your head is even by looking at your hair from different angles. When self-trimming, work slowly in small sections of no more than 6mm. Use successfully trimmed sections of hair as a guide for where to work on subsequent sections.
Lifetime-lasting sharp blades are supplied with every product in the women's and men's cordless hair clippers collection, allowing for a perfect haircut every time you trim your hair. This means that you will not have to sharpen your blades over the lifespan of your hair clippers. That being said, you can help to keep your hair clippers' blades sharper for longer by oiling them from time to time. Given your washable Braun hair clippers can be exposed to water, re-oiling is beneficial.
Electric hair clippers can be used to trim longer hair, especially Braun models that have a memory SafetyLock that will help you to stick to your preferred length setting. You can use a comb to lift the hair you want to trim with your women's or men's hair clippers so that you only cut the hair you want. When trimming longer hair that you want to maintain the length of, make use of the largest comb. This will allow you to trim hair to lengths of 35mm.
Trimmers or Beard Trimmers are designed to style facial hair. Beard trimmers offer a better precision and more styling options via different attachments. Groomers or body groomers serve to trim and remove hair from body, such as the chest, back, arms, legs and intimate areas. Clippers or hair clippers are primarily designed to cut scalp hair. They usually have wide and long combs to be able to cut a lot of hair efficiently.
Added to your basket
Sorry, there seems to have been an error. Please try again.
Subtotal: ( items in your basket)